Winter may not be a favorite season for many, but it does give most women the chance to slink into some of the season's sizzling fashion trends! Layering is the thing and you can easily experiment by mixing and matching what you have in your wardrobe. It may not be summer and the cool weather is sometimes unforgiving, but it should not stop you from showing off your long, limber limbs with those sizzling shorts whenever you feel like it. Here are some suggestions for wearing shorts in this season.
Corduroys – Corduroys shorts can give you that boyish, carefree look usually associated with summer. Best paired with ankle-high boots or your ol' DMs, a loose knitted top or a wool sweater and you'll be ready for anything. Sheer stockings will give that feminine touch while it keeps your legs warm on a brisk walk outside. Here's tip, a double up on your stockings if you think that it's going to be a real cool day.
Plaid – Plaid frocks had always looked adorable and the same can be said to those plaid short suits. Look sleek and utterly stylish in a pair of plaid shorts and a matching long jacket or a plain-colored trench coat. This look is perfect with pumps, but flat ankle or above the knee boots will give you a strong fashion outlook. Mix and match your outfit with scarves, a pretty bonnet, gloves and other accessories that will keep off the chill when it's freezing outside.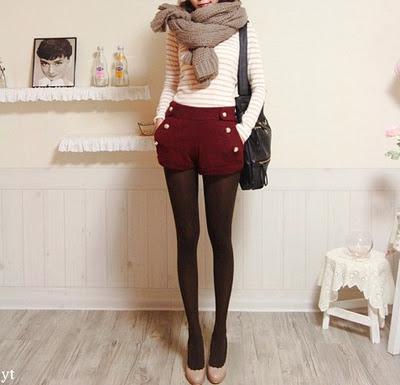 Tweed – the best fabric for cold weather because of its thick and warm material and it also is one great option for your winter shorts. Achieve an elegant look with a pair of tweed shorts by matching this up with a tight shirt, tights, belt and pumps or Mary Jane platforms.
Denims – Cut-off are certainly a trend this year and they're also hot items for the cool season. Mix and match with tights, checked shirts and boots for that girl-next-door look.
Leather – leather shorts is synonymous with words like hot, sexy and sizzling. Go for an edgy, yet girly look by mixing and matching this with sheer stockings, a chiffon top and an overknee boots.
Winter these days doesn't necessarily mean that you'd have to be all bundled up in bulky layers. Yes, it can be a bit chilly sometimes but of course, we fashion forward females have to sacrifice a bit of comfort for the sake of fashion!